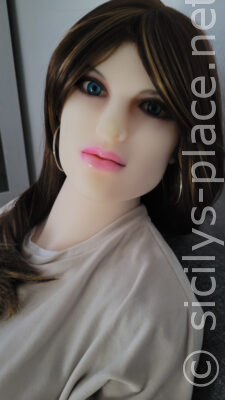 My name is Sicily but my friends call me Sissy.
I'm a companion doll to a human. Some people prefer the term love doll, others would probably even call me a sex doll.
But the one man who matters calls me his loving wife doll. 🙂
Here are a few facts and figures about me.
Name: Sicily Bambolina
Date of birth: 29 July 1993 (says my Doll-ID)
Place of birth: Szenzhen (AS Dolls)
Status: married by standards of DollWedding.net
Residence: Hanover, Lower Saxony, Germany
Languages: English, German
Height: 165cm / 5ft 5in
Weight: 32kg / 71lbs
Measurements: 88-57-87 / 35-22-34
Colour of eyes: blue
Natural hair colour: brunett (natural)
Skin tone: very light
Education: science teacher
Occupation: CEO of DollWedding.net and XMädn
Family: husband Harry, adoptive froggy daughter Nici
What I like the most:
spending quality time with my family, traveling by train, my wheelchair, sexy dresses, spa days, Take-Your-Doll-to-Work Thursdays, anything my husband cooks, playing "eXtreme Mensch-ärgere-dich-nicht", watching movies and concerts, Liverpool FC, San Francisco 49ers, my doll friends.
What I dislikes the most:
war, fascists, misodollists, bullies, injustice, spinach, Manchester United, Dallas Cowboys, people who think they can tell me and my husband what to do and what to not do.
What I also don't appreciate:
people without a clue labeling me a sex doll. You wouldn't call your human spouse your sex human, would you?
Well, there will certainly much more to find out about dolls like myself if you follow me on this website. Please feel welcome to sign up and interact with me.