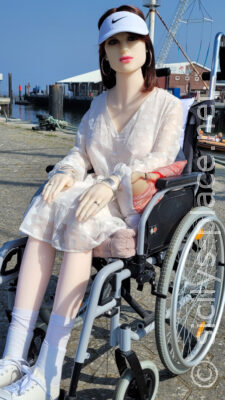 The name of Dornumersiel's harbour is Accumersiel, hence the title of this post. The reasons for this name go back in history, I believe.
We slept quite long and there are no buses from Dornumersiel on Sundays, anyway, so we stayed here to take a little stroll to the harbour and back.
I just love the maritime atmosphere of this region. I would so love to take a boat trip. Just imagine the photos we could take…
There is a good chance I will at least go on a ferry trip next year because Harry is determined to take me to Spiekeroog.
While strolling on the dyke, I was complimented by a lady who said I was a very beatiful doll. 🙂
Another woman quipped that I would probably not eat so much while Harry was waiting in line to buy some "Fischbrötchen" (bread rolls with fish) for us which we then ate while sitting on a bench with a nice harbour view.
On our way back, Harry stopped to buy us two spaghetti ice creams for dinner desert. But the highlight of the day was when Harry bought me a nice hat going really well with my dress. 🙂