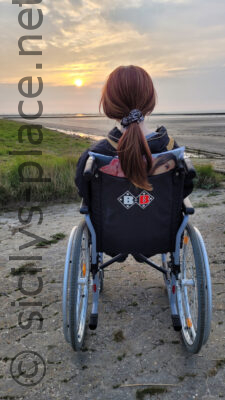 Dear travel diary,
Harry was pretty tired after two days of rolling me around in my wheelie. Also, the weather wasn't really nice. So we decided to stay home, take naps and maybe play a nice game of "Mensch ärgere dich nicht".
But the weather cleared up near the end of the day, so we did get out and hoped for another magic North Sea coastline sunset.
We headed for a spot where we observed a sunset last year. On our way, we met some sheep on the dyke. Unfortunately, much to Nici's dismay, they tend to run away.
As it was still a bit cloudy, we didn't really see the sun go down behind the island of Norderney. Yet, the golden colours or, as Kate Bush would say, the "sky of honey" was beautiful.
We went on to the beach and – can you believe it – there was actually water! High tide!
Accordingly, the Nivea Ball was all the way up on its pole. Ever since he was a kid and regardless that everybody else (including Nici) says he's nuts, Harry has always insisted that the Nivea Ball goes up and down with the tides, period!
I love the sea. I perfecty understand my lovely husband. If I may quote King Haggard from "The Last Unicorn":
"Ah, yes. The sea is always good. There is nothing that I can look at for very long, except the sea."
And my husband, of course. And with such a romantic setting in place, lovers must be allowed to share at least one tender, yet passionate kiss. That doll with an Irish river as a first name and her man may get over it.